The weekend before last, I ran the Healdsburg Half Marathon in Sonoma County, California.  The race course was incredible, winding along wine country farming roads past vineyards and olive trees.  Running in beautiful outdoor settings, like the wine country, seem to fill me with energy almost as if the beautiful outdoors is emanating it for me to absorb.
I also had the pleasure of running with a good friend who I had not talked with in ages.  We spent the first few miles trying to make sure that our pace was not too fast as neither of us had completed training runs longer than nine miles so we didn't want to overdo the first part of the race and find ourselves walking at the end.  This turned out to be a good plan and we conserved enough energy and managed to keep a pretty decent pace the entire race.  I was happy to finish in 1:53 especially since I barely trained for the race.
Literally seconds after I crossed the finish line, I pulled out a package with two Alka-Seltzer tablets.  I quickly found the tent distributing post-race water and placed each Alka-Seltzer into a separate four-ounce cup and watched the tablets dissolve.  A minute later, I downed both drinks and found my husband who had concluded the race about ten minutes earlier with the same ritual.
A couple of months ago, a friend of ours completed the Jungfrau Marathon in the Swiss Alps.  If you are not familiar with the race, it is notorious for being extremely difficult climbing up steep mountains.  To give you an idea of how hard it is, the course record for women is 3:21:03.  If marathon times don't mean anything to you, this might help drive home my point.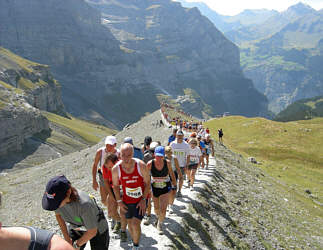 It's hard!  I haven't run the race but we have hiked in that area and let me just say that I cannot even imagine running it.  Anyway, our friend, Gustavo, did run the race and when my husband, Andy, was asking him about it, he told him about how he took Alka-Seltzer after the race and recovered so much more quickly and felt incredible after the race and the next day, when you usually feel like, well, crap.
Even though we were only doing a mostly flat half-marathon at sea level, we thought it was worth a try so we both took the Alka-Seltzer after the race.  We had a lot of wine tasting ahead of us so we figured anything we could do to replenish our depleted electrolyes might be a good thing.
The result was amazing!  We both felt great after the race and even started wine tasting at the finish line as it is one of the perks of running one of the wine country races.
Our friend, Lindsay, ran the marathon and despite getting sick at mile 25, she even felt good post-race, post-Alka-Seltzer, after she had a little time to recover.
For the next race on your calendar, I highly recommend giving Alka-Seltzer a try.  According to Gustavo, the key is to take it almost immediately after finishing the race so that is what I would recommend as well.  And if you don't have a race on the calendar, might I suggest one in the wine country.  There are a bunch of them, and I would venture to guess they are all amazing.
Cheers!
No related posts.
---